The best of community
Gathered together around a large oak table—a favourite memory of growing up on a farm in southern Ontario. For over one hundred and eighty years, generations have gathered in that same room—smiles shared over family recipes passed down hand to hand on weathered paper. Etched into the floor boards are the moments when plates have dropped from little hands. Water stains from flower arrangements grace the pine window sills.  Laughter, tears, the sharing of hopes and dreams, and the occasional bun launched across the table by my grandmother. And one of most tangible things that ties those moments passed—those memories we hold tightly together—is the wood.
The natural beauty, grain, colour, and character of the wood is as timeless as the marks of being well loved—a beautiful reminder of those moments passed.
It is in our gathering that we experience the best of community. And our sole motivation is to provide you with the very best quality of handmade artistry that will become your community's tapestry of memories.
Drawing on the natural elegance of each piece of wood we work with, we specialize in making functional pieces from locally sourced Ontario wood—bringing beauty and functionality to all of your gatherings. We hope our pieces provide you with the best of opportunities to gather with those you love and hold dear for generations to come.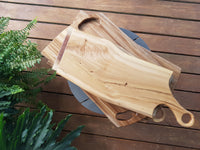 Small Charcuterie Boards
Small size, enormous character. These unique designs are both functional and stunning. Whether you're entertaining an intimate crowd or you're into minimalist design, these boards make the simplest of gatherings that much more elegant.
Products page
Live Edge Tables
Looking for a live edge table to complete your space? Ranging in style, wood variety, and stain, you can work with us to customize the live edge table you've been looking for. Contact us today for more details.